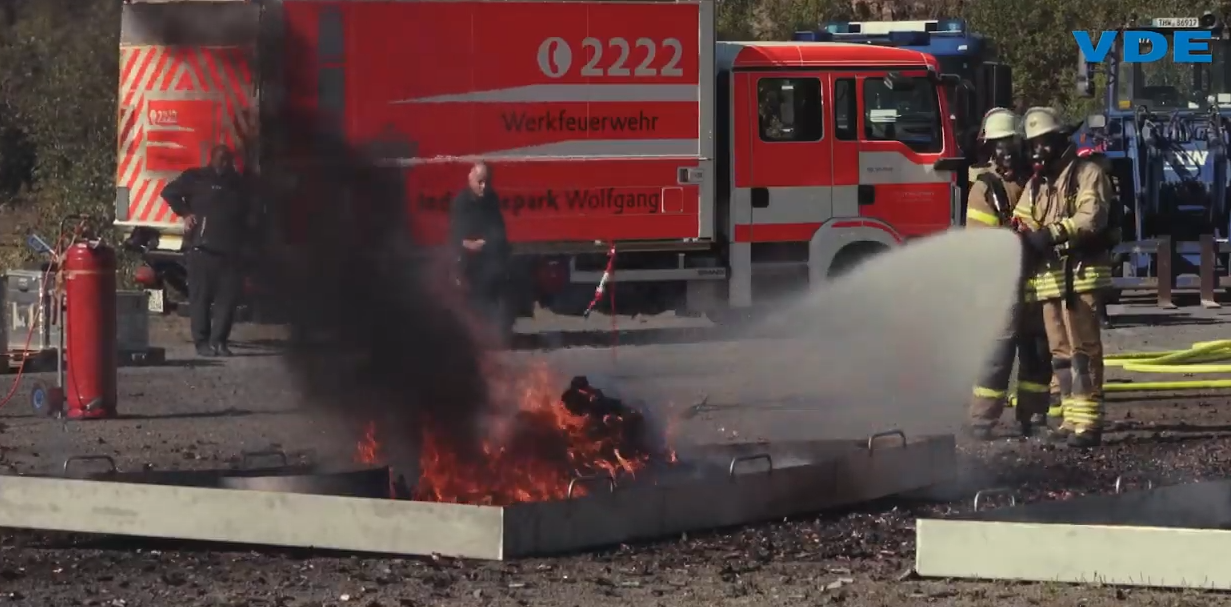 Lithium-ion batteries have now made their way into the most diverse areas of our lives. They are used in smart phones and laptops, power and garden tools, with low energy content in electric toothbrushes or with high energy content in electric vehicles or stationary battery storage systems.
Again and again, fire is caused by previous misuse and damage to the battery or by poor workmanship during manufacturing, especially with small batteries from China.
From the point of view of fire departments, insurance companies and OEMs, it is therefore necessary, particularly with regard to the safety of the end user, to continuously collect information on fire intensity and smoke development, fire spread, extinguishing methods and tactics in order to derive information on safe handling and storage, risk assessments and measures for preventive fire and hazard protection.
One of the best ways to study the individual impacts and the successes of different extinguishing methods is by examining the behavior of intentionally generated fires under controlled conditions and in a secure environment.
This is where VDE Renewables' battery firefighting seminars come in. Through our in-depth expertise in testing various battery and energy storage components and systems, we offer these technical seminars – with comprehensive theoretical and practical components based on the latest battery technology research – in order for interested parties, including professional and company fire brigades, to learn how to safely and effectively extinguishing battery and energy storage fires.
Due to the uncertainty caused by the coronavirus pandemic, the next seminar date is not fixed yet, but we welcome any inquiries about seminars for your organization. Please contact Holger Kuehlmeyer at holger.kuehlmeyer@vde.com if you are interested to find out more about our firefighting trainings.